When it comes to strong characters on comedy shows, not many names ring a bell. At least not for me. However, there is one name that I think of: Leslie Knope from Parks and Recreation. Leslie is often misunderstood and isn't always good at reacting properly, but working in a male-dominated profession such as government shows how strong Leslie Knope really is. There is nothing that can't be solved when she sets her mind to it. So why is Leslie Knope considered a strong character? Here's my reasons why:
She's smart and isn't afraid to let you know: One of Leslie Knope's greatest qualities is that she's smart. She isn't the typical 'dumb blonde' comedies like to illustrate. In fact, Leslie is often the only one on the show who makes sense. In her own kind of way. She has a plan and she enacts on it. She doesn't wait around for anyone else to help her, she uses her own resources and builds it from the ground up. Her intelligence is how she progresses with her ideas throughout the series.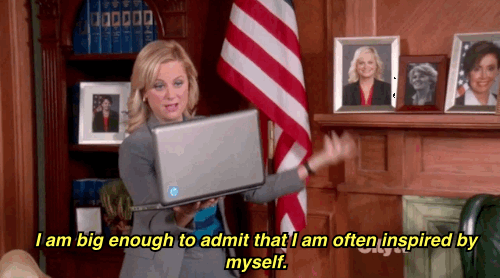 She's a very vocal feminist: There are various moments in the show where Leslie Knope demonstrated exactly what feminism means. Throughout the show, Leslie shuts down female stereotypes. Women are not just there to look pretty and make pie. Although, she's totally okay with a woman who wants to make pie. What I admire most is that Leslie empowers women. She's a voice in a fictional world that is actually super real. There aren't enough characters on shows where the woman is vocal about defying gender norms. But Leslie is and she makes sure everyone else knows it!
She believes women are just as strong (if not stronger) as men: A little backstory that happened during one episode: some government workers stated that they don't hire women because men are suited better for the job. Leslie was quick to shut them down and prove them wrong by trying out those said jobs that are "only fit for men". Sure, Leslie didn't excel at the tasks, but she knew that women could work those jobs. That, yes, women are more than capable to do a job a man can. This ties in with feminism, but it's  a category of it's own because Leslie makes it clear that women are just as strong as men. Some might be even stronger.
She proves that if you chose the right career, it's worth it: As a college student, I am constantly hearing people complain about their careers. If we're being honest, it's haltered my career choices. Then I watched Parks and Recreation and saw that there was someone who actually enjoyed their work. Leslie proves that when you pick a career that you love, everything you do for it is worth it. Being someone who loves their career with a burning passion is strong in itself. Even when the going gets tough, she weathers through it because she has a job she loves. I'm hoping I love my future career as much as she does. Although, I probably won't want to work until I'm 100-years-old like she does. No thanks.

She has self-doubt, but always believes that she's capable: I have never met someone who hasn't had a little bit of self-doubt. We all do; it's just human nature. For as many times as Leslie failed throughout the show's run, she was always back on her feet. She got knocked down, but she never gave up! Her determination and confidence wavered, but she managed to weather the storm. (I had to throw that cliche in there…it just felt right) No matter the doubts she had, Leslie proved that she is capable. Having self-love is a pretty powerful thing, and it takes a lot to love yourself.
Leslie Knope is a strong, slightly insane, character who who has the drive and passion to accomplish whatever she sets her mind to. Being strong doesn't mean being physically strong, it means being a person who is like Leslie Knope. She demonstrates some great girl power on TV!